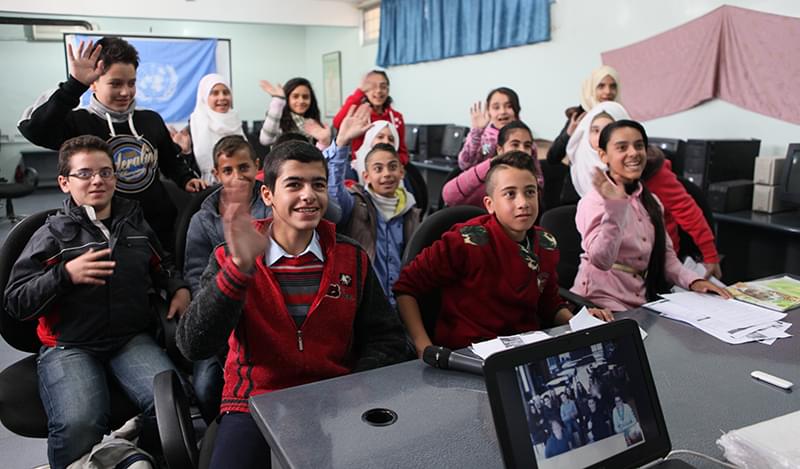 This autumn, Palestine refugee students in five schools in Syria, Gaza and Lebanon will be paired to explore and advocate for the UN Sustainable Development Goal 4 'Quality education' with their peers in the United Kingdom, Germany, the Netherlands, Sweden and the United States of America through the 'My Voice-My School' project, made possible with the support of generous donors, including the European Union.
Over 12 weeks, students such as Roos, Finn, Amina, Salim and Rama will work together on a joint classroom project to explore the concept of quality global education and to identify and propose improvements within their own school and community. Throughout the project, three online video exchanges will allow students to share ideas and discuss the progress made. Final project results will be shared with the media, the European Union and national decision-makers, as well as with UNRWA education experts. This will allow the students to be the very advocates of their own quality education.
The project is funded by the European Union and contributors to the UNRWA Syria Regional Crisis Emergency Appeal and is implemented by UNRWA in partnership with Digital Explorer and Qatar Foundation International.
The turmoil faced by people in Gaza, Syria and the broader region makes education all the more precious for the half a million Palestine refugee students enrolled in close to 700 UNRWA schools. Education builds resilience and generates hope, especially during conflict and protracted crises. This innovative project allows students to break the isolation brought on by war and occupation and gives them a sense of solidarity across borders while they develop skills to advocate for their education and future.
"This project provides opportunities for students to voice their ideas on what makes education 'quality'," explains Dr Caroline Pontefract, the UNRWA Director of Education. "It reflects the principles and practices of the UNRWA education programme by empowering students to think and share ideas about teaching and learning."
Co-developed by UNRWA and Digital Explorer, My Voice-My School was launched three years ago to empower youth by giving them a voice and the opportunity to communicate across borders on issues that matter to them. This innovative programme combines programme teacher development, student-centred learning, use of information and communication technology in the classroom, and communication and advocacy, as the media covers the live student exchanges and discussions between the students.