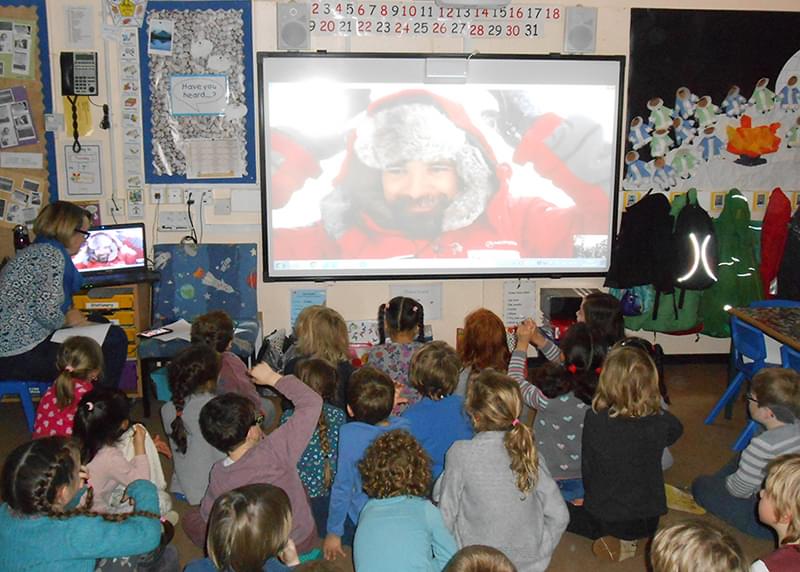 This week, the World Meteorological Organisation published its annual report on the state of the global climate, confirming previously released figures showing that 2016 was the warmest year on record. Yet, attitudes to climate change remain markedly divided.
Research shows that those who are "science curious" are more likely to be able to sort fact from fiction. To this end, a team in the Arctic has been working with schools across the world to bring real science to the classroom.
From the team's base on the island of Svalbard, the visual signs of climate change are obvious. Glaciers are in retreat and there is no sea ice in the nearby fjord, while February temperatures have been over 6 degrees Celsius above average. The Arctic works like an early warning system dramatic changes occurring there can help predict further impact on the rest of the planet.
It is the combination of being able to speak live to active scientists and expeditions from an area markedly affected by climate change that helps students develop a more curious and critical approach to science.
Between 7-16 March 2017 over 10,000 young people of all ages participated in the XL Catlin Arctic Live event. This was an exciting learning experience connecting schools from five continents with members of an expedition team based at the UK Arctic Research Station. From the comfort of their classrooms, students interacted via one-to-one Skype calls and YouTube live broadcasts with the expedition team in Ny-Ålesund, Svalbard, the most northerly permanent settlement in the world.
"I have always wanted to see a real-life explorer. I would like to be one", said a 6-year-old from the Recreation Road Infant School in Norwich after a Skype video meeting with Jamie Buchanan-Dunlop, Director of the UK-based social enterprise Digital Explorer and teacher turned expedition educator.
"There's nothing more exciting for kids in school than getting to see with their own eyes what this fragile environment looks like and hearing from real scientists what they go through during their expeditions. We're bringing that to life using live chats, virtual reality and new technologies. And by talking to curious minds from the earliest ages, we effectively develop critical thinking and scientific curiosity.", he explains.
Now in its fourth year, Arctic Live uses the latest communications technology and inspiring education resources to help children get a closer look at this fragile environment and meet the scientists researching vital data on environmental change.
"We are not always aware of these problems and it is important to consider them. Learning directly from a researcher is a fascinating experience. She has encouraged us so much!", said a high school student from Estudio School in Madrid. His class connected with Dr Ceri Lewis, an experienced marine biologist at the University of Exeter researching how environmental change and pollution affects marine animals.
Since 2014, over 25,000 students across 400 schools globally have spoken to polar scientists and explorers based on Svalbard, and in the UK and Norway. They discovered the real science behind this unique environment and found out the challenges of expedition leaders, marine geophysicists, biologists, polar guides and world record holders.
"It is a privilege to do this kind of work. I get to share with all sorts of students from all over the world my love for and knowledge of one of the most beautiful and rapidly changing places on the planet.", said Dr Bianca Perren, paleoecologist at the British Antarctic Survey, who has spent the last 15 years working in the polar regions investigating how ecosystems respond to past and ongoing climate change.
Teachers continue the learning journey by accessing free resources that are developed in collaboration with scientists working at the forefront of these issues. 360 degree virtual reality media, on platforms such as Google Expeditions and YouTube, continue to bring this environment to life.
Arctic Live is part of XL Catlin's Oceans Education programme which focuses on increasing ocean literacy around the world. It is a collaboration between XL Catlin, Digital Explorer and the British Antarctic Survey (BAS), that operates the UK Arctic Research Station supported by NERC Arctic Office.