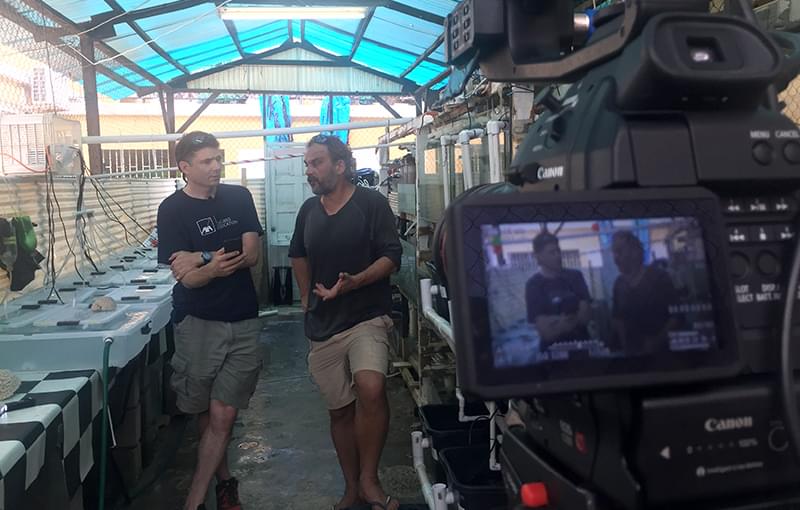 2 November 2018

Amid the distressing headlines about the risks to corals caused by human activity, meet Dr Vermeij, Director of CARMABI, and his expert colleagues share hope for corals with thousands of students globally with Coral Live 2018.
Coral Live, part of AXA Oceans Education, has launched from the CARMABI Marine Research Center in Curacao from 29 October – 09 November and brings the wonders of corals to life in over 125 schools internationally.
Over five days, founder of Coral Live, Jamie Buchanan-Dunlop is working with the leading coral researchers, animating unique interactive webcasts to introduce pupils from ages 7 to 16 to the fragile coral ecosystems, human impact on them, and the latest science research looking at how to preserve and restore corals.
With each day dedicated to a new topic, young people will be introduced to corals, their habitats, the impact of high CO2 levels, the twilight zone of deeper corals and the amazing adaptations found on the reef. Classes will follow live investigations, join in on interviews with Dr Mark Vermeij, Dr Kristen Marhaver, Dr Pim Bongaerts and Dr Kelly Latijnhouwers and send in their questions during the ask-me-anything sessions.
This education outreach is designed to inspire young people to engage in this vital topic and develop their ocean literacy. Covering less than 1 per cent of the marine environment, coral reefs are home to 25 per cent of marine species and important nursery habitats to numerous fishes. Yet human activity and climate change are putting the corals at great risk along with the estimated 1 billion people dependent on reefs for food.
Confronted with the daunting reality of destructive human impact, Coral Live and its collaborating science partner, CARMABI, is responding to a critical need to engage young people at scale to learn about the importance of the coral oceans and the vital role they play.
- ENDS -
To find out more contact, Irina Prentice: [email protected]

SM handle: @de_updates SM hashtag: #corallive2018
SM: @CARMABIMarineBiologicalStation hashtag: #CARMABI

Sponsored by AXA XL
Running for a third year, Coral Live is part of AXA Oceans Education, and run in partnership with education agency Encounter Edu. Coral Live makes up part of AXA XL's broader mission to develop ocean literacy. Since its inception, AXA Oceans Education has reached over 3.5 million students globally through four core science and geography resources: Our Ocean Planet, Coral Oceans, Frozen Oceans, Submarine STEM.